It doesn't matter if you drive a used INFINITI car or a top-of-the-line trim level, it's critical to keep up with routine maintenance like INFINITI oil change service. Routine oil changes will ensure that your INFINITI vehicle has fresh engine oil circulating, so it continues driving smoothly and safely. The service center at INFINITI of Northern Kentucky is here to help inspect and service your luxury vehicle, as well as provide important tips and information about tire care, how long your brakes last, and more.
Wondering How Long to Go In Between INFINITI Oil Changes?
The new rule of thumb is twice a year or every 7,500 to 10,000 miles, however, it's recommended that you should go about 3,000 miles in between oil changes. Just remember, this could vary by model, because some may require different oil like synthetic oil. It's always best to refer to your car manual for specific information regarding oil changes, or you can contact the service department at INFINITI of Northern Kentucky.
If you don't drive your vehicle often, you should still have an oil change done every three months, regardless of the number of miles you put on it. Even if you haven't gone 3,000 miles, you still want to make sure you're replacing old oil that can build up and cause your engine to lose efficiency.
INFINITI Oil Changes: How Do They Work?
Not replacing your oil will have a negative impact on the health of your INFINITI. During an oil change, the mechanic will:
Jack up the vehicle
Drain out the old oil
Replaces the oil filter
Add new oil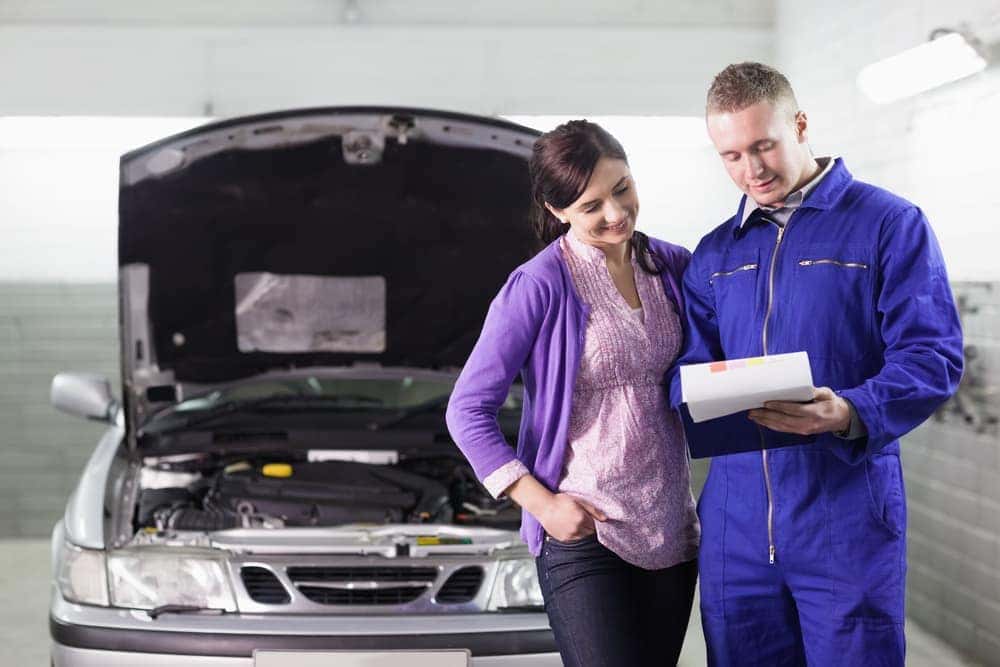 How Often Should I Check My Oil Level?
It's best to have your oil level checked at least once a month to catch any potential leaks in the oil system. Dirty oil changes the vehicle. Be sure to check the oil colors to make sure the colors haven't changed, and be on the lookout for any appearance of metal particles. Both are signs of major problems. If you're noticing any of these things, schedule a service appointment.
Schedule an Oil Change at INFINITI of Northern Kentucky
When you're ready to have your INFINITI oil changed, visit the service department at INFINITI of Northern Kentucky. Before stopping in, peruse our INFINITI oil change coupons online and save on your next visit. Have questions in the meantime? Whether they're surrounding the INFINITI oil change schedule, how to check tire tread, or for details on INFINITI Roadside Assistance, you can contact us online or by phone during service hours!
More from INFINITI of Northern Kentucky
The 2020 INFINITI SUV QX50 is a luxury compact five-seat SUV offering a stylish and roomy cabin and best-in-class cargo capacity. If you're looking for Florence car dealerships and INFINITI locations with 2020 INFINITI vehicles in stock, INFINITI of Northern Kentucky has you covered! Find out why so many INFINITI QX50 reviews place it at the top…

The 2019 INFINITI QX80 is a luxury SUV with a distinctive exterior design known to make heads turn on the Cincinnati, OH roadways. But that's not all this luxury SUV is known for, the new INFINITI QX80 interior has a lot of drivers and industry experts alike talking. Visit INFINITI of Northern Kentucky to explore the new QX80…

If you're looking for a luxury vehicle that can take your Cincinnati, OH and Florence commute to the next level, then you're bound to find everything you need with the 2020 INFINITI QX60 interior. You'll find everything from plenty of cargo and passenger space to a full suite of the latest technology, safety, and comfort features….